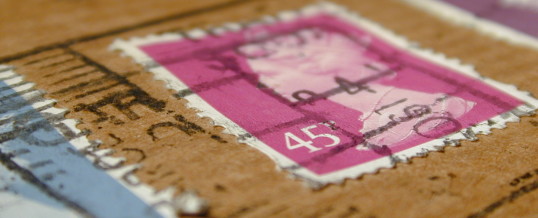 A business without a strong logistic's partner is at risk, was the overwhelming message delivered to students at The University of Derby's Derby Business School. As companies arise in the age where information technology drives many new businesses, each interaction with the customer matters. In the case of online businesses, logistics are now more important than ever since there is no physical interaction with the consumer until the product is delivered at their front door.
David Jinks MILT, international courier, ParcelHero' s Head of Public Relations drives the point home as he spoke to students studying Derby's Brand Impact and Popular Culture Module. David made the point that once the product leaves the warehouse, the face of your brand is your courier. Your trusting the courier with your brand and that decision should be made carefully.
"The receipt of a parcel by courier should be an equal experience to receiving a gift, from a friendly hand-over to exciting packaging. 'This is the only way in which online business can compete and better the experience of shopping in a glamorous high street department store." Said David as he spoke to the Marketing and Business Studies students.  By monitoring how a courier handles difficult issues will be a great indicator as to whether they can be trusted with your brand.
Points to consider as you chose an international courier to handle your brand.

High Traffic- Has the courier caved under the pressure of the pre-Christmas rush? Many customers of online retailers are paying closer attention to the choice of courier and the service time especially during time sensitive deliveries of the holiday season.
Professionalism- As each business must entrust their brand to a courier, special attention is paid to the appearance and track record of the professionalism of that courier. As these couriers understand that they represent the brand of the package they are delivering they are treating the delivery to the customer with more care then ever before.
Prices- As you might expect prices play an important role in a business's choice of courier. After all a business must remain profitable to ensure longevity in the marketplace. For example the delivery of a parcel to Netherlands can range in price 300% from one international courier to another.
Guaranteed Delivery- Although not important to everyone, there are times when your package must be delivered before a certain day and time. In those cases it is important to know which international courier guarantee their deliveries.
Duty and or Taxes- It is important to know what you will be charged as you ship internationally. Some countries will charge a duty while others may charge certain import or export taxes.
Insurance- You should know how much insurance is available for your package. Although a small percentage of packages are damaged in transit, knowing the risks and how you can cover an unexpected loss is paramount.
As you chose your logistics provider keep in mind what, Kuldeep Banwait, Program Leader for Undergraduate Marketing Program at The University of Derby's Derby Business School, had to say "Logistics is the forgotten element of brand delivery. Yet it has the power to make or break reputations."