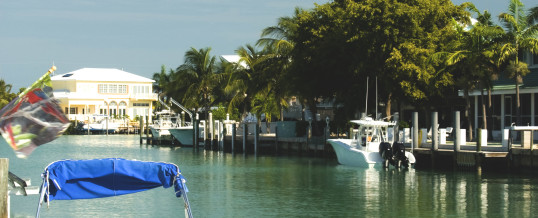 It's very common for northerners who fall in love with the Florida Keys to buy a second home here where they eventually plan to retire. Many put their homes on the market as vacation rentals; others keep them exclusively for their own vacation use. Regardless of your plan there are some basic things that you should know as you go through the process of purchasing your vacation home.
Price Range
Goes without saying that the first step is know what you can afford. If you budget is $500,000 then you can narrow down your search to areas or communities that are in your price range. Since this is not the first house you have ever purchased then you realize that you only want to invest your time looking at locations that are in your budget. It is important to let your Real Estate agent know this so they can present homes that are best suited for you.
Go on Vacation and Come Back with a Second Home?
When you visit a someplace like the Florida Keys and fall in love with a destination, it's easy to be start thinking about buying a property for retirement or as a vacation home. Of course, you don't want to be impulsive and buy without doing more research, but your vacation is a great time to start the process of looking at homes and getting familiar with the real estate market.
You will want to decide whether you will keep the home for your own vacations, for example, or whether you want to rent the home to other vacationers when you're not using it. If you decide you want to rent your home out before retirement or when you're not on vacation yourself, that will influence the home you purchase, since you will want to make sure you maximize the rental potential of your purchase.
Consulting with a real estate firm that also rents and manages properties can give you some inside information you might not get from a agency that only sells property.   A rental management company can tell you how many beds/bedrooms you need, for example, says Lisa Joseph of Key Colony Beach Rentals. Your ideal retirement home may sleep only 4, but the most popular rentals sleep 6-8, on average.
Location may also play a major factor. In the Florida Keys, for example, rentals that have Ocean access for deep sea fishing are more popular than those with only Gulf access.
Don't Get Engaged on the First Date
This goes along with buying on impulse, but there is a little more to this. You visit a location for a week or two, maybe even multiple years in a row, so you are ready to buy, right? Not necessarily, many locations have a completely different feel off-season. It would be a good idea to visit off season, get to know some locals and really get to know the local culture of the area not just the tourist view of the area. A couple conversations with some of the locals and you can get a good feel for the area.
Find a Local Real Estate Agent
Although your friend Bob back home in Massachusetts just picked up his Florida license to sell Real Estate to all of his buddies that are buying retirement homes, you may want to pass on having Bob help you. Although Bob has been your friend forever and he even sold you the home you have lived in for the last 30 years, but Bob doesn't know the local Real Estate market like an agent that works and lives in the location you want to buy. Find a local agent in the Keys here http://www.keysproperties.com/
Financing
The best advice is shop around, check local banks in the area where you are buying, large mortgage companies and maybe even an online lender. Weigh the options with your financial advisor as to the best options for your personal financial situation. Depending on your portfolio it may make more sense to use your investments to purchase the home than to finance.
Tax Benefits and Consequences
According to TurboTax there are several important tax implications involved with purchasing a second home.
Tax breaks to encourage buying a second home
Mortgage interest deduction on a second home
Deductible property taxes on a second home
Tax free income for renting your second home out for less than 15 days a year
Possible tax free profits, by changing your principal residence
Learn more about these benefits and possible tax consequences at TurboTax.Intuit.com